2021 CIFTIS - Chinese and International Experts Share Their Counsel on "Energy Revolution" and "Carbon Peak & Carbon Neutrality"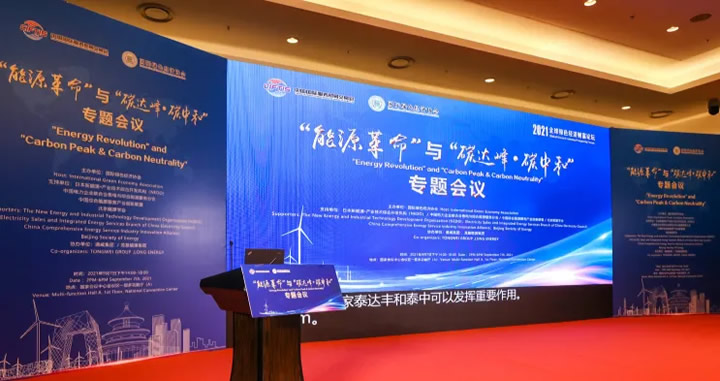 On the afternoon of September 7, 2021, hosted by the International Green Economy Association (IGEA), the"Energy Revolution"and"Carbon Peak & Carbon Neutrality"Conference was held at the National Convention Center in Beijing. A total of 200 people from China, Denmark and Japan, including authoritative experts and representatives from professional institutions and leading enterprises in the energy industry, attended the conference.
This conference brings together the leading experts in the energy industry and leading enterprises at home and abroad to focus on the energy path of the realization of carbon peak, carbon neutrality, and ways to power the energy transformation and revolution by means of scientific and technological innovation.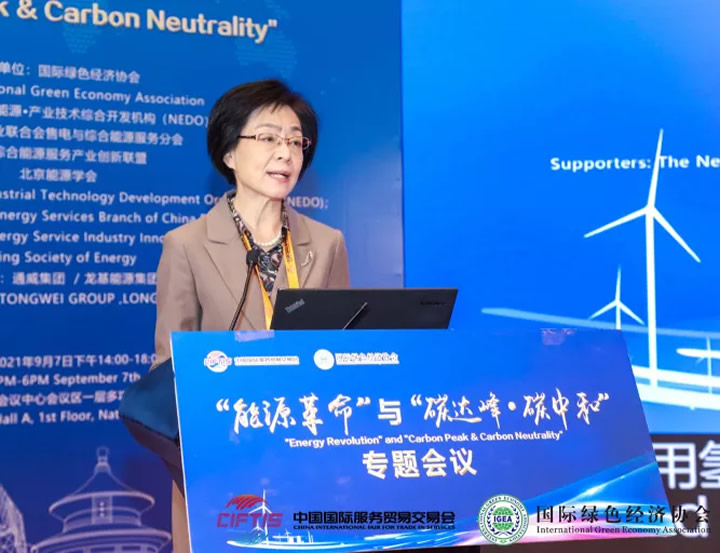 Ms. Rong Ma, former Deputy Director-General of the Department of Resource Conservation and Environmental Protection of the National Development and Reform Commission and director of the experts committee of IGEA, pointed out that as the primary area to achieve carbon peak and carbon neutrality, new energy and renewable energy is bound to rapidly grow into the mainstream of the energy system. As a major energy country and a responsible country, China shoulders the important task of promoting technological innovation and regional energy transformation, and realizing sustainable development.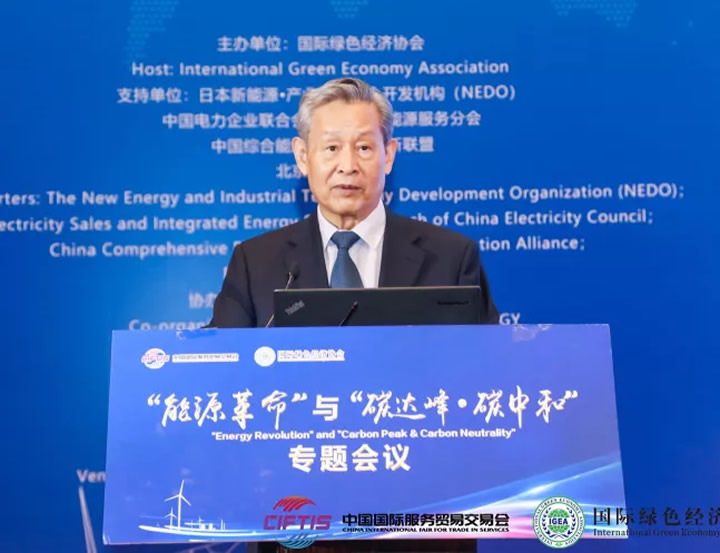 Professor Xiangwan Du, academician of the Chinese Academy of Engineering, delivered a keynote speech on building a new type of power system with new energy as the main part. He said that the new power system is key to moving towards carbon neutrality. It is entirely possible to construct a new power system with new energy as the primary part. Then he analyzed the views and measures of energy revolution and low-carbon transformation from the development of multiple energy sources, smart power grids, energy storage technology and power load.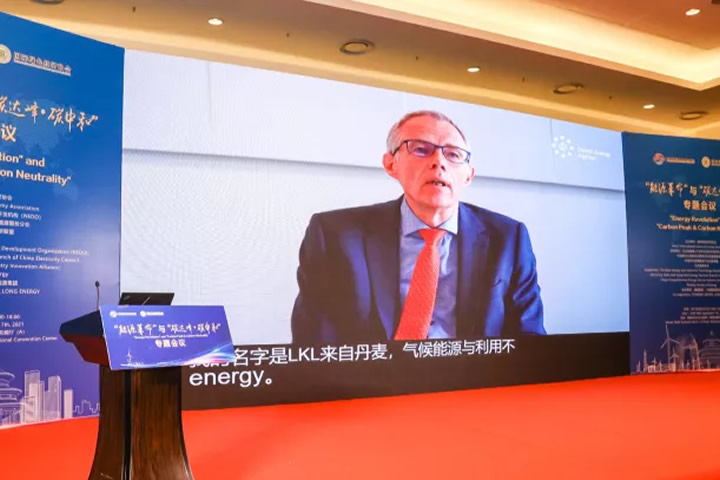 Mr. Erik Kjaer, chief advisor of Danish Energy Agency of the Danish Ministry of Climate, Energy and Building, delivered a speech via video. He said that the transformation and development of the world energy system is urgently needed. The Danish government has been committed to the in-depth research and innovation of new energy technologies for many years. Danish people would like to share their technology and experience with China and work with China to jointly develop global new energy projects.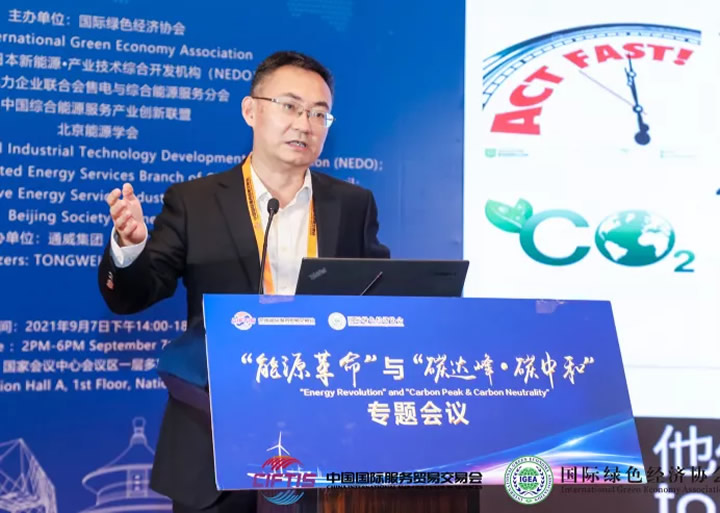 Professor Changying Zhao, dean of China-UK Low Carbon College of the Shanghai Jiao Tong University focused on the in-depth and systematic transformation of energy industry. He believes that the transformation of energy needs to be supported by specific technologies. The rapid development of energy in the future will inevitably be accompanied by the development of energy storage technology. The combination of energy and big data information technology makes intelligent energy system become a new mode of energy use in the future.
Representatives of leading multinational enterprises in the energy sector addressed the conference to share their practice and experience on achieving carbon neutrality.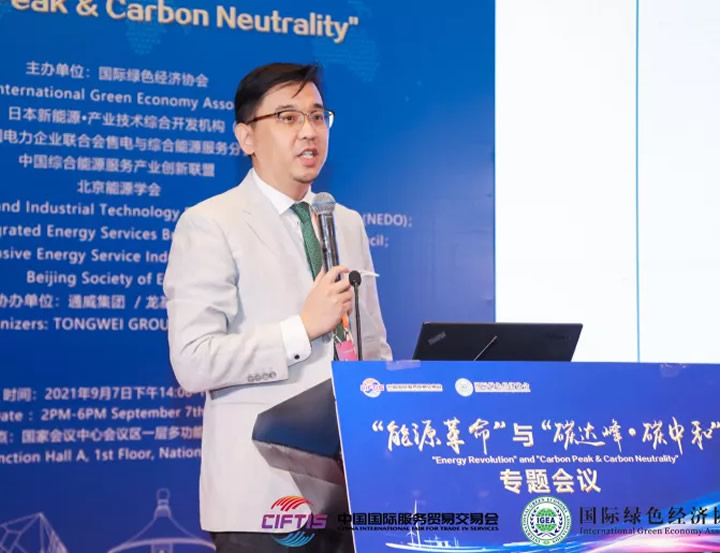 Mr. Xiao Liang, representative of the New Energy and Industrial Technology Development Organization (NEDO), introduced green growth strategy in Japan and their practice in the field of hydrogen fuel cells. He introduced Japan's detailed development road-map of hydrogen technology and the hydrogen industry, which are the focus of the energy market.
He said, as Japan's largest technology research and development organization, NEDO has been committed to energy and environment, industrial technology research and development. Japan has pledged to become carbon neutral by 2050 at the end of last year, and the Ministry of Economy, Trade and Industry of Japan has unveiled the strategy to achieve carbon neutral green growth in Japan. In addition, fourteen key technology areas for carbon neutrality in the future have been outlined. Japan is committed to decarbonization of the power sector, and will further increase the proportion of renewable energy, develop technologies related to hydrogen and hydrogen large-scale power generation, and capture and sequestration of carbon dioxide from traditional thermal power stations.
He said that, in the future, increasing the proportion of electrification, especially the use of renewable energy, including hydrogen, will be very important. As for the research and development and use of hydrogen energy, Japan has the most intellectual property rights in the field of hydrogen energy in the world. Japan promotes the strategy of hydrogen energy from the production, transportation, storage and utilization of hydrogen energy to the whole industrial chain. NEDO is pleased to serve as a bridge between China and Japan in the field of energy technology and industrialization in the field of climate change, and jointly promote the realization of carbon peak and carbon neutral goals for both countries.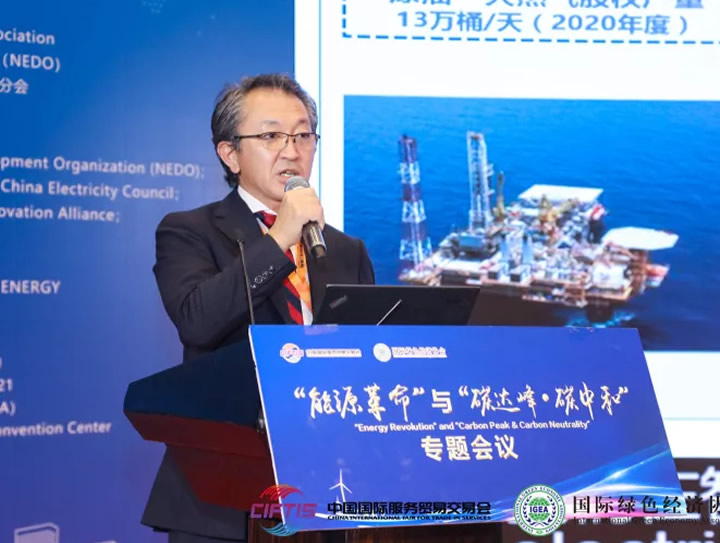 Mr. Tetaro Tan, general representative of ENEOS China and Chairman of the ENEOS Beijing Branch, introduced ENEOS' strategy to build a hydrogen energy society. ENEOS is a Comprehensive energy company in Japan. In the past, oil, natural gas, electricity and other energy took up its major businesses. In order to achieve a decarbonized society, ENEOS has been actively promoting new energy sources such as photovoltaic, wind and hydrogen in recent years.
ENEOS hydrogen energy business mainly includes hydrogen station operation in Japan and the establishment of green energy industry chain abroad. Its strategy of clean energy industry chain abroad is mainly to actively discuss and cooperate with overseas local enterprises to jointly study and build hydrogen energy industry chain. In addition, ENEOS is working on low-cost hydrogen production technologies overseas and hydrogen carrier technologies for mass transportation. As for China, ENEOS is trying to connect the production areas in mainland China with the eastern consumption regions in a more efficient and affordable way of transportation. ENEOS will export green hydrogen to partner countries while meeting Japan's domestic demand.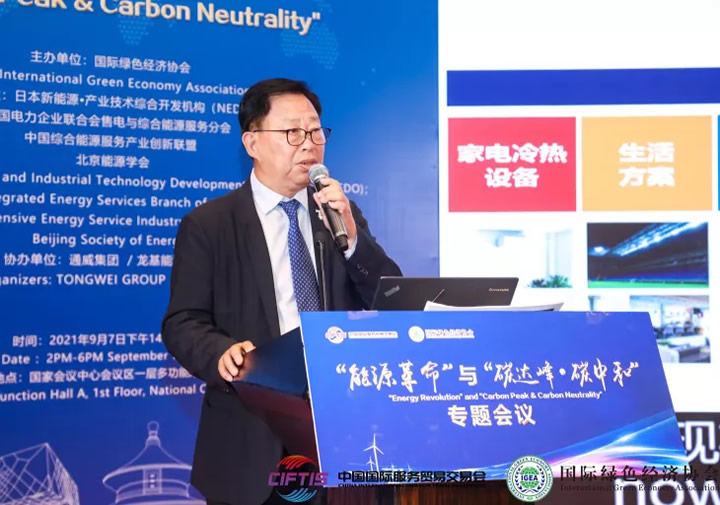 Mr. Bingdi Zhao, vice president of Panasonic China, displayed Panasonic's practice and measures on low carbon development. He said that on June 2017, Panasonic has released "Panasonic's Environmental Vision 2050", which states that by 2050 Panasonic will generate more energy than it uses in its products and services.
In terms of fuel cells, Panasonic launched a natural gas modified fuel cell in Japan, whose efficiency can reach 97% as a primary energy. Its carbon emissions are about 1.4 tons less per year than natural gas boilers. In China, starting next year, the company will expand the market by focusing on pure fuel cell products with a power of 5 kilowatts. It will be promoted on a large scale by 2024, and make practical contributions to achieving China's carbon peak and carbon neutrality.
Representatives of leading Chinese enterprises in the energy sector addressed the conference to share their practice and experience on achieving carbon neutrality.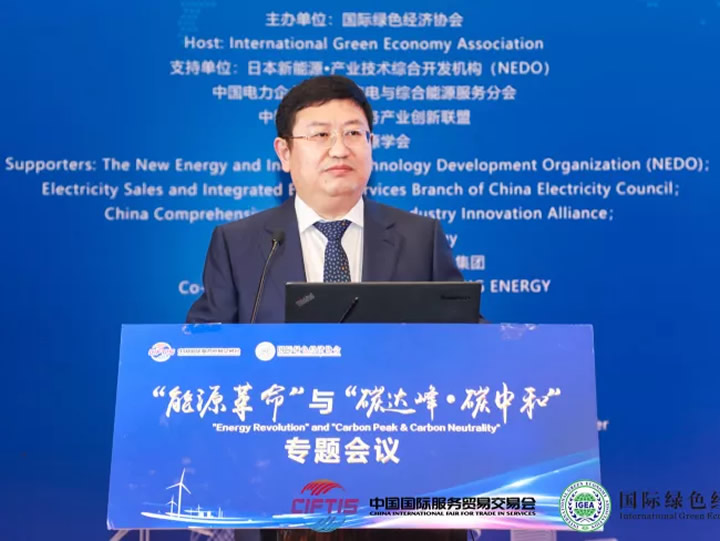 Mr. Gongcheng Fan, deputy general manager of the State Grid Integrated Energy Service Group, shared with the guests the development and practice of integrated energy resources of State Grid Corporation of China under the "dual carbon" target. He said that building a comprehensive energy service system, continuously increasing the development of new and renewable energy on the energy supply side, and continuously improving the electrification level on the consumption side are important means to promote the transformation and upgrading of the energy industry chain.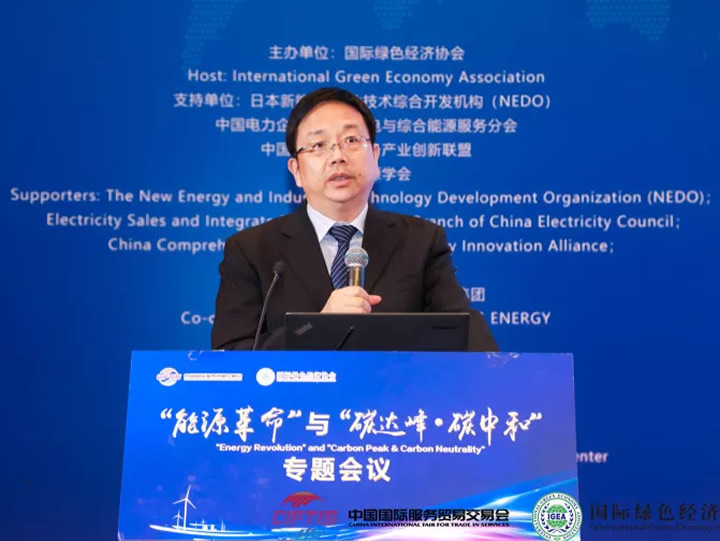 Mr. Weidong Gong, general manager of the State Power Investment Corporation Limited, shared the practice on the digitization of national power investment. State Power Investment Corporation is now vigorously promoting the exploration and practice of digitization. On the supply side, digital technology is expected to transform existing energy production and boost the rapid development of renewable energy. In addition, it is an urgent need to improve the efficiency of existing fossil energy conversion and energy consumption. So far, the State Power Investment Corporation has done a lot on intelligent operation and maintenance of photovoltaic and overall optimization of wind power plants, including intensive and intelligent operation and maintenance of new energy and plants and stations. He states that digital technology will be a core competency for energy companies like State Power Investment Corporation.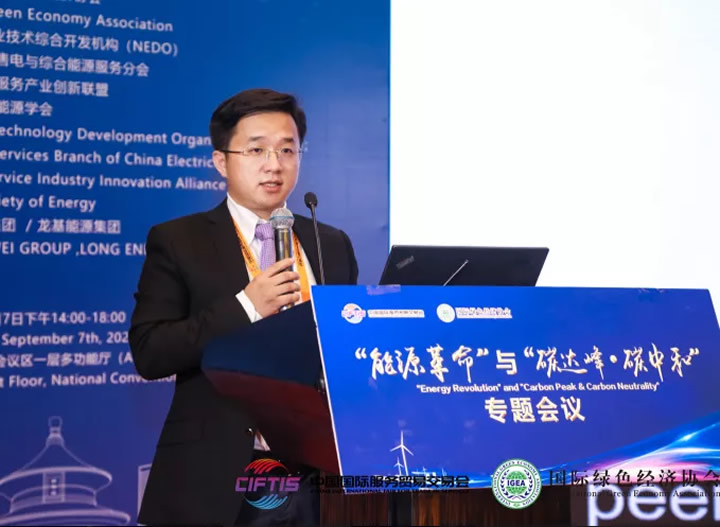 Mr. Keguang Yao, general manager of General Hydrogen in Shenzhen, analyzed the development of Hydrogen Energy and the industrialization of fuel cells in China based on the domestic hydrogen energy market. He said that hydrogen energy is developing rapidly in China. According to current local plans, the domestic hydrogen industry will reach the level of one trillion yuan by 2023 or 2025. Currently, the difficulty in the popularization of hydrogen energy mainly lies in the high cost of hydrogen transportation. The transportation cost of one kilogram of hydrogen is about 6 to 8 yuan per 100 kilometers. This is an urgent problem that needs to be solved. Ge Hydrogen has been committed to the research and development of key technologies of hydrogen energy for many years and has made a breakthrough at present.
In the coming years, ICEA will further promote the establishment of an energy low-carbon industrial alliance integrating cutting-edge technologies, industrial demonstration, and operation chain interconnection and cooperation, and promote the construction of an all-round new energy and electricity supply and demand system with the vision of achieving "dual carbon" target.